Sunshine Insurance Promotes Komen Bahamas On Our News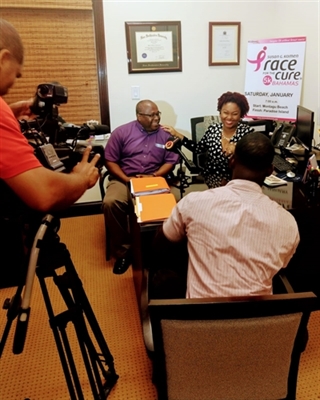 Sunshine Insurance (Agents & Brokers) Ltd. recently appeared on Our News to promote its upcoming Susan G. Komen Bahamas Race for the Cure scheduled for January 19, 2019.
The race raises money every year for local cancer charities. In October, at the start of Breast Cancer Awareness Month, Sunshine Insurance donated $100,000 to four charities.
Komen Bahamas Marketing & PR Chairperson, Rogan Smith urged Bahamians not to wait until the last minute to register for the race.
Sales Manager of BahamasLocal.com, Francis Taylor, who is sponsoring the event said fighting breast cancer is deeply personal, as his mother, battled the disease for years and he has seen families destroyed by cancer.
He urged men to get regular exams, noting that they, too get breast cancer.
To register, visit www.komenbahamas.org.