2021 Sunshine Insurance-Elmira College Scholarship Competition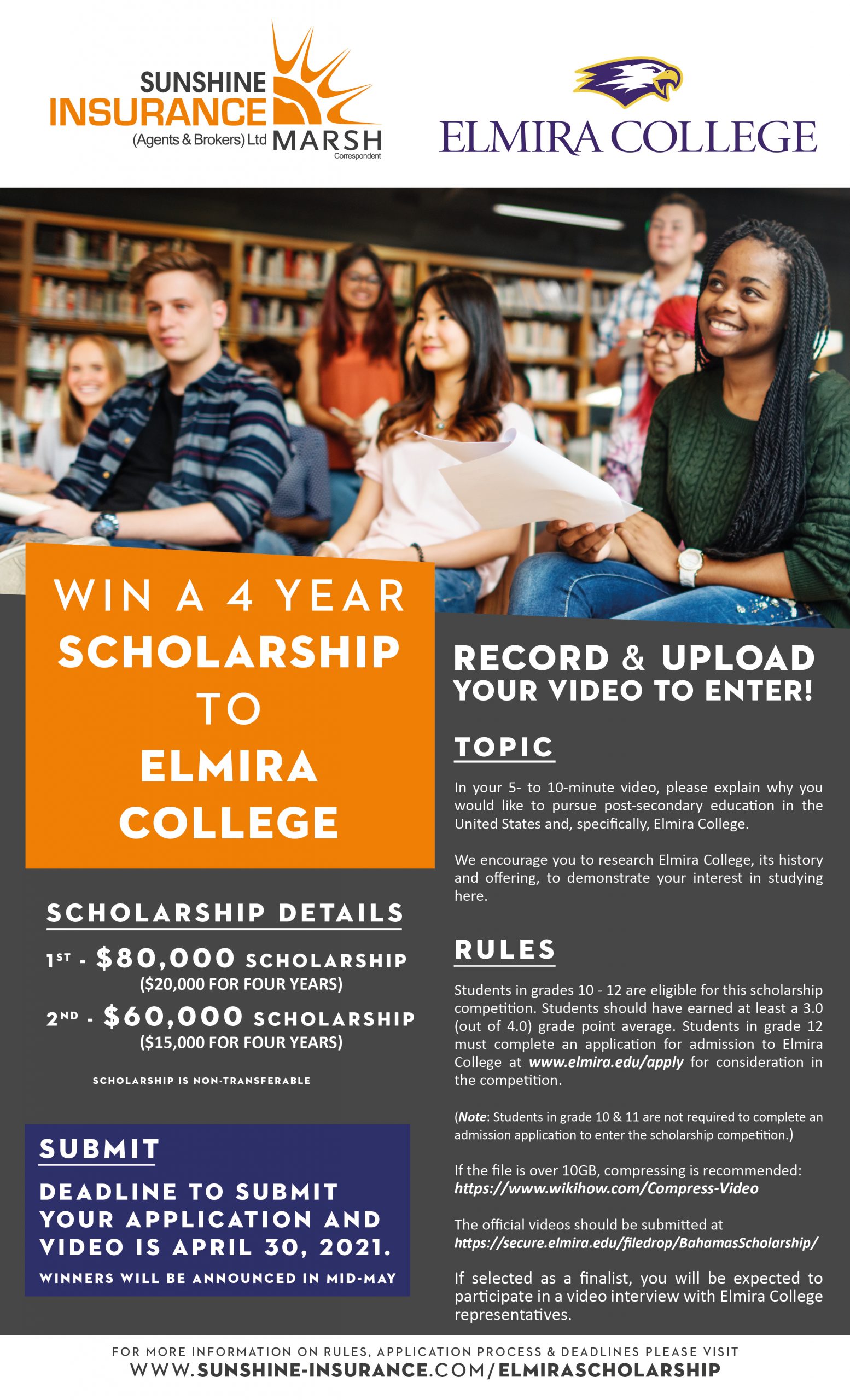 win a 4 year
scholarship
to
elmira college
Scholarship:
First place is an $80,000 scholarship ($20,000 for four years) to Elmira College.
Second place is a $60,000 scholarship ($15,000 for four years) to Elmira College.
Scholarship is non-transferable.
Topic:
In your 5- to 10-minute video, please explain why you would like to pursue post-secondary education in the United States and, specifically, Elmira College. We encourage you to research Elmira College, its history and offering, to demonstrate your interest in studying here.
Deadline:
Deadline to submit your application and video is April 30th, 2021. Winners will be announced in mid-May.
Rules:
Students in grades 10 – 12 are eligible for this scholarship competition. Students should have earned at least a 3.0 (out of 4.0) grade point average. Students in grade 12 must complete an application for admission to Elmira College at www.elmira.edu/apply for consideration in the competition.


(Note: Students in grade 10 & 11 are not required to complete an admission application to enter the scholarship competition.)

If the file is over 10GB, compressing is recommended: https://www.wikihow.com/Compress-Video
The official videos should be submitted at https://secure.elmira.edu/filedrop/BahamasScholarship/
If selected as a finalist, you will be expected to participate in a video interview with Elmira College representatives.
CONTACT US
Additional questions on the competition or the application process can be directed to
Senior Associate Director of Admissions Leslie Daloia at 
ldaloia@elmira.edu
 or 607-735-1739