Sunshine Insurance Race Weekend Donates $50,000 To Help Fight Cancer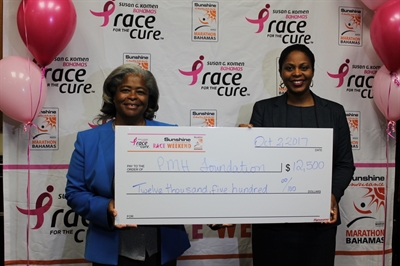 Sunshine Insurance Race Weekend (SIRW) on Monday donated $50,000 to four cancer groups to help fight cancer.
The Cancer Society of The Bahamas, the Cancer Society of Grand Bahama, the Princess Margaret Hospital Foundation and Sister Sister Breast Cancer Support Group each received $12,500 this year.
Susan G. Komen Bahamas Race for the Cure® and Sunshine Insurance Marathon Bahamas (SIMB) together make up Race Weekend.
The funds raised from the two-day event are used to create public awareness about cancer, house Family Island patients as they undergo cancer treatment and purchase Portacaths, to name a few.
"Sunshine Insurance Race Weekend is a mammoth undertaking, and we at Sunshine Insurance are proud to be the lead organizer and sponsor of the weekend event," said Sunshine Insurance President, Paul McWeeney.
"Although there are numerous ancillary benefits from Sunshine Insurance Race Weekend, the ultimate goal of this effort is to give back to the community, as we have done for the last nine years."
On hand to accept cheques were: Cancer Society of The Bahamas board member, Dianne Bingham; Princess Margaret Hospital Administrator, Mary Lightbourne-Walker and Sister Sister Breast Cancer Supporg Group President, Andrea Sweeting. Ms. Bingham also accepted a cheque on behalf of the Cancer Society of Grand Bahama.
Honorary Chairperson of Komen Bahamas and breast cancer survivor, Willie Moss, who was unable to attend this year's news conference, in a statement, thanked Sunshine Holdings' Chairman, Sir Franklyn Wilson, Marathon Bahamas' Director, Franon Wilson and the Sunshine Insurance team "for their unwavering commitment to our fight against breast cancer."
"Together with the Susan G. Komen organization, the Sunshine Insurance Race Weekend has increased the degree of awareness of this illness, and promoted the importance of early detection and healthy lifestyles, to an unprecedented level in The Bahamas. In addition, through these events, they have made it possible for many to receive the assistance needed to beat the odds," she said.
"I therefore urge all to come out and be a part of the upcoming Susan G. Komen Bahamas Race for the Cure on January 13th 2018. Walk with us, run with us, and join forces with us, so that together, we may be strong in battle, and win this war against breast cancer."
Sunshine Insurance VP of Operations, Shelly Wilson thanked the event's longtime, as well as new sponsors, for their support.
"Sunshine Insurance has been the lead corporate sponsor since Race Weekend's inception in 2010. However, those familiar with the events know that it cannot possibly be successful without the support of the wider corporate community. I would like to specifically highlight this year's Platinum sponsors: the Ministry of Tourism, Atlantis, Focol and our newest, Aliv," she said.
Mr. McWeeney, meantime, noted that sponsorship from the Bahamas Ministry of Tourism affords Race Weekend the opportunity to have a presence and to be recognized at other marathons and sports expos around the world and to solicit support for the event.
"We are also grateful for the assistance of nearly 200 support volunteers who come to our aid annually to make this event one of the more significant charitable initiatives in The Bahamas," he said.
SIRW got its start in January 2010 as a corporate initiative.
The goal was to bring about community awareness of health-related issues.
On January 13-14, the company will host its 9th Marathon Bahamas event and the 8th Susan G. Komen Bahamas Race for the Cure®.
To register for Komen Bahamas, visit komenbahamas.org.